After more than 15 years, we're also soberly aware of the countless ways our mental health care system has and continues to fail people of color. This month, we've opened the conversation as a team to better understand the experiences, the motivation, and the impact that our very own staff hopes to make on their clients, in their community, and through their career. They also vulnerably share their direct experiences as it relates to the mental health conversation. Without further ado, we'd like to introduce you to Kim, Cornelius, and Ashley.
Let's dive in!
Meet Kim, Cornelius and Ashley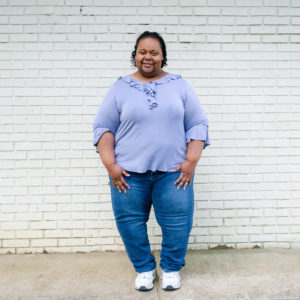 Kim Johnson, MA, Care Coordinator
Kim received her Bachelor's Degree in Social Work and Master's Degree in Counseling Psychology from Bowie State University. Currently, Kim is working towards becoming a Certified Psychiatric Rehabilitation Practitioner. 
Before joining the Help in the Home team, Kim worked for over 10 years at a mental health agency where she learned to facilitate groups, the process of treatment planning and also facilitated home visits. Eventually she became the Rehabilitation Manager overseeing the day program where she participated in marketing the program, training and supervising staff, onboarding new hires, and worked collaboratively with various outside agencies.
Cornelius Kuteesa, MA, Care Coordinator/Peer Mentor
Cornelius earned his Master's Degree in Sustainability and International Development from Brandeis University, Heller School for Social Policy and Management.
Cornelius' mental health experience includes more than four years of working for DMH-funded community-based mental health programs in the Boston, Massachusetts area. While in graduate school, Cornelius worked with the Disability Rights Fund (DRF/DRAF) in Boston, MA where he supported the African Regional Director in empowering grassroots CSOs to advocate for policy reforms in their various countries to make them inclusive of all people, especially for persons with disabilities. He also worked for a UN agency in New York and UN labor organization in D.C. where he represented the organization at the Harkin Summit on Disability and Employment.
Cornelius is passionate about inclusive social policies and continues to use his background in social policy to advocate for vulnerable people in the community to make sure no one is left behind.
Ashley Saunders, MS, SLC Community Manager Supervisor
Ashley graduated with her Bachelor of Science degree in Physical Education from Bethune-Cookman University in 2010. She received her Master of Science degree in Health Education from Emporia State University in 2014. Throughout her career Ashley has advocated for underserved individuals and families by connecting them with support and resources.
Before joining Help in the Home, Ashley worked as a special education teacher for children with Autism. She also worked as a child welfare investigator for the state of Florida, advocating for children experiencing neglect and abuse due to substance abuse and mental health diagnoses. Ashley also has experience in case management from her work serving homeless individuals. 
What is your first memory as it relates to mental health?
Kim
"My first memory was at 8 years old, when my aunt was diagnosed with Schizophrenia. I remember my aunt was in her mid-to-late 20's and my dad and his siblings did not know what to do. They were unsure of what services she needed and did not know how to get started or who to ask for help. My aunt began taking turns living with each of her siblings. She would spend about 3-6 months with each sibling before going to live with the next. There was always something going on and my aunt was not medicated at the time. My father, aunts and uncles were always trying to figure out what to do. One day my aunt had a psychotic episode and ended up getting arrested. My father, aunts and uncles were still unsure of how to assist her. Ironically after getting arrested, she was sent to an inpatient facility for an extended period. While there, my aunt was able to get the help she needed (i.e., getting on appropriate medications, and getting into a group home). My father and his siblings were also able to ask questions and get educated on my aunt's diagnosis."
Cornelius
"I was about 16 years old. I had a best friend in high school and the two of us were very close. We treated each other like family. However, during our final year of high school, he started experiencing mental health concerns from time to time. His symptoms later became more frequent and persistent, affecting his ability to function until he was pulled out of school and mandated treatment at a mental health hospital. This prevented him from graduating with us from high school, causing his life to take a negative turn which still breaks my heart today."
Ashley
"My first memory was with a young mother who was in crisis, had just given birth and was diagnosed with Schizophrenia. She was displaying aggression, agitation and hostile behavior, as well as hallucination, paranoia, and hearing voices which put her baby's safety at risk. With the help of her team, we were able to stabilize her and keep the baby in the home with her with in-home support."
Why did you choose the mental health field as a career?
Kim
"The ironic part is after seeing my aunt go through so many ups and downs and a roller coaster ride with her mental health, I initially decided not to go into the mental health profession. My goal was to become a social worker and work more with keeping families preserved. I even did my internship in Prince George's County with a program called Family Preservation. 
But guess what? The mental health field chose me! I realized the majority of the families I worked with all had experience with someone who had been diagnosed with a mental health disorder or had been touched in some way. I graduated from college and got my first job working in a residential program in Prince George's County. The residential program worked with individuals 18 years and older with mental health disorders. It was such an eye opening experience! I was able to connect with the residents and learn their stories. From that point on, I have always worked in some capacity in the mental health field."
Cornelius
"I am passionate about people and believe that everyone deserves a fair chance to live a better life despite their circumstances. It brings me great joy to offer compassion, inspire hope and teach clients skills that they need to overcome their challenges and restore their dignity, which they could have lost as a result of their illness. 
Also, as a Christian, I believe that God's purpose for my life is to demonstrate His love for everyone through caring for people and helping those in need. I am able to fulfill God's purpose for my life through my profession."
Ashley
"I chose a mental health career because I enjoy helping people. And those with mental health are usually not seen as a person but as their diagnosis."
Why is top-notch behavioral health care important to you?
Kim
"It's important to me because I believe everyone deserves the best care. I have been in this field long enough to know people are not getting that. When a person is in a mental health crisis, they should receive patience, support from family/friends, a safe place to recover and a dedicated team of professionals.
I also believe the more people are educated about mental health the better off the world is! There are still so many misconceptions and myths floating around about people who have been diagnosed with a mental health disorder. So, education is key and very important."
Cornelius
"Many clients have had bad experiences with mental health service providers in their past, which impedes their progress. I want to change that landscape by ensuring that clients feel empowered, heard and cared for. The best way to achieve this is by providing top-notch care."
Ashley
"Top-notch behavioral health care is important to me because when those with mental health have the best services, it allows them to work more productively, cope better with everyday stress, maintain a positive outlook, and engage in healthy eating, sleeping, and exercise habits."
What positive effect have you experienced by dedicating yourself to a career in mental health?
Kim
"I have been in the field for over 20 years and the one thing I see as a positive for myself is the patience I have gained and not sweating the small stuff. I am always quick to dispel misinformation given about the mental health field. Working in this profession has kept me humble. I appreciate my life and my family. I have the deepest respect for all who have been diagnosed with a mental health disorder and have had the strength to keep going despite the challenges they have encountered. My biggest inspiration is my aunt! She has persevered, survived and has been through so much but every time I visit her, she ALWAYS has a smile on her face. She gives the best hugs too!"
Cornelius
"This career path gives me the opportunity to have an impact on clients' lives. Seeing clients gain mental stability and rebuild their lives as a result of the work that we do, gives me so much joy."
Ashley
"I've experienced earning career advancement opportunities, reaching more of my goals and being proactive and motivated."
________________
Thank you Kim, Cornelius and Ashley for sharing with us how the mental health field has impacted your career path! We appreciate all the amazing work you have done at Help in the Home and for our clients!